Santa Suspends Six Seawolves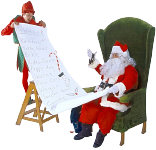 North Pole, Alaska
- Santa Claus held his annual "Naughty & Nice" Press Conference today and as expected 6 UAA Seawolves and 5 Colorado College players were included on the list for
fighting
(photos link) after last week's game.
Santa said, "I've looked at the tape and am comfortable with the fact that we've nabbed all the perps."
Santa added, "If this had happened in February or March, perhaps the boys could have worked their way off the list, but there just isn't enough time when you pull a stunt like this in December."
Responding to a question from Doyle Woody Santa noted, "We considered staggering the suspensions over two Christmas' but the rules are pretty clear."
Under the long standing tradition people on the "Naughty List" do not receive Christmas presents and have to go to the end of the line at the Christmas Lunch Buffet. O.J. Simpson has the longest current streak on the "Naughty List" with 12 straight appearances.
Santa's UAA "Naughty List"
Chris Tarkir (Fighting)
Chad Anderson (Fighting)
Jay Beagle (Fighting)
Blair Tassone (Fighting)
Mark Smith (Fighting)
Kevin Clark (Fighting)